I was struggling to grow a proper sourdough starter for about a year and a half. When my bread got moldy it was always the same - the mold was fuzzy/hairy and it smelled like whitewash (the final white layer on plaster). Moldy bread baked from commercial (dry) yeast also had the same smell. If I put my bread into a plastic bag - even with the bag fully open so the bread was in contact only at the bottom - it would get this fuzzy mold in 2 days. But only on the side where it couldn't breath (where it was touching the bag). Leaving it in the oven on the rack was fine, no mold for 4-5 days. I was religiously following the "wait until the peak starts falling, then feed" starter feeding routine. The rise was good, the smell was mild. If I fed wholegrain flour it got the smell of rotten eggs. If I fed white flour that smell wasn't present so I continued with white (for the record, I started a second starter when feeding wholegrain to keep my "good" white starter intact).
About two months ago I neglected my feeding routine and it started to smell sour. The thing is, I have never tasted, smelled or seen anyone else's sourdough but mine so I am not sure how exactly it should behave. Now I would like to confirm whether my starter has become a proper sourdough starter  or not (is it still a wild-culture starter?).
I baked a loaf of bread from white flour T500 (the whitest flour is 400, bread flour is 850), waited about 12 hours so it was cool to the touch. I sliced off a chunk of bread and put it in a plastic bag, wrapped around it so it had minimal to no air circulation (to promote mold).
PS: press your mouse-wheel to open pictures in new tab
18th of November, wrapped: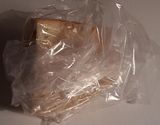 (click image for larger version)
21st of November, the first (white) mold was visible: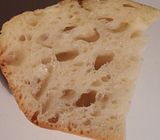 (click image for larger version)
24th of November, the first blue-green mold was visible: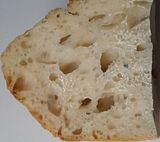 Natural light (click image for larger version)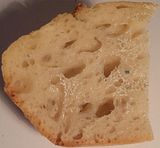 Artificial light (click image for larger version)
Zoomed in (click image for larger version)
25th of November, mold is more pronounced:
You can see 3 different molds (click image for larger version)
And different angle to see molds' texture (it's not fuzzy)(click image for larger version)
Oh I almost forgot. This new mold doesn't smell at all. I could almost say it has no smell but it's so faint I can't describe it. I smelled it right now (27th of November...the mold is MUCH more pronounced than on 25th) and the aroma hasn't changed. Maybe it reminds of moldy bread baked from commercial fresh yeast...but I can't be sure. I suspect the blue-green mold is the one giving off that smell but even if it is, it's still a different mold because this one is super faint while the one from commercial yeast is super smelly.
So what do you think, is my starter a sourdough starter yet or is it still a wild-culture?