The Fresh Loaf
1st Bake in 2 YEARS!!
Submitted by
Justkneadit
on September 1, 2014 - 4:04pm.
Bonjour tout le monde,
So, after an almost 2 year hiatus on baking I finally am back in the game. This is my first bake since that time so long ago, so critique it to death. Dusting off those old skills is no easy feat, but manageable. Anyways, I followed this recipe to the p, not quite the t because I changed some minute details:
All KAF AP, no rye
The first 45 minute S & F turned into more like 1 hr and 45 mins.
No 24 hr cold retard
C'est tout et bonne journée.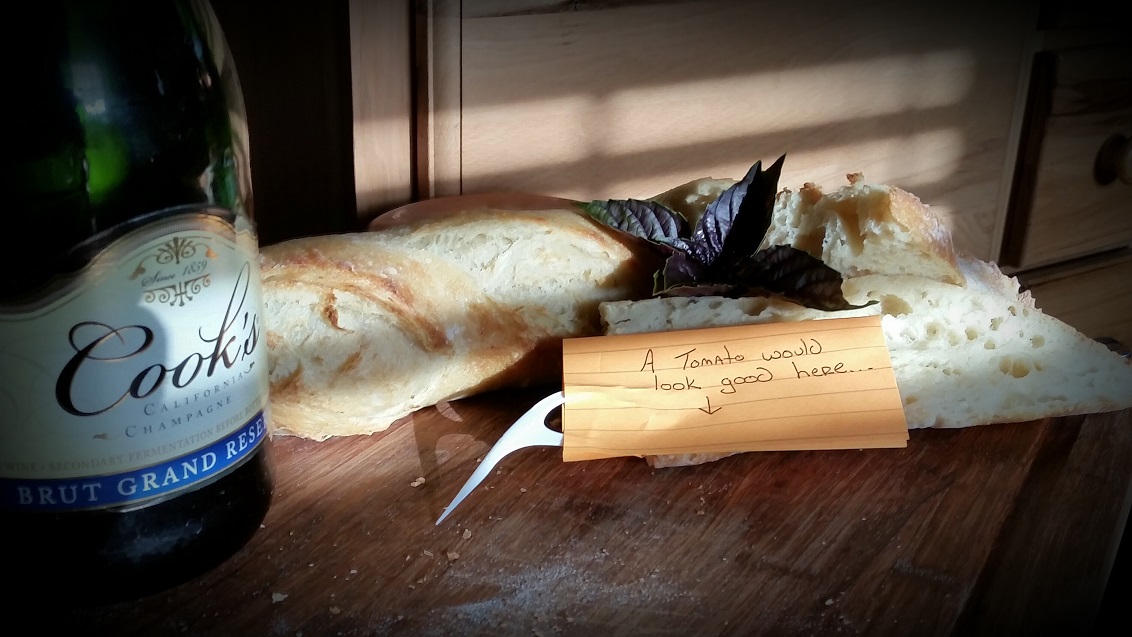 Tartine "morning bun"
Submitted by
Janet Yang
on September 1, 2014 - 4:03pm.
We were recently in San Francisco, so of course I made a pilgrimage to Tartine bakery. They have something called a morning bun (or it might be "morning roll"), which appears to be a long piece of dough that is coated in cinnamon sugar and coiled up. Simple, but really good—it seems to be a staple in SF cafés. 
Is there a recipe for this in any of the Tartine books?
Janet
Brotform success!
Submitted by
rgreenberg2000
on September 1, 2014 - 2:25pm.
I bought a brotform some time ago, used it once to disastrous results (sticky, doughy mess), and put it away to focus more on recipes, dough technique, etc.  Well, I've gotten tired of my round, dutch oven loaves, so did some research here on TFL on how to prep the brotform to best effect, and achieved some decent results today!  I thoroughly prepped my brotform with rice flour, and after my dough had risen, had absolutely no trouble at all with getting the dough released onto my peel.  Based on the resulting loaf, I think I can still work on my shaping and scoring technique, but I am completely satisfied with this result (I like the non-uniform look!) :)
One question.....should I get all of the remaining flour out of the brotform at this point, or is it kind of like cast iron where I should leave what's left in there as "seasoning" for the next time??
Some shots of the loaf just out of the oven (crumb shot later, I promise!!):
Thanks for looking, any and all comments, tips, advice are welcome!
Rich
San Joaquin Sourdough in a Dutch Oven over Charcoal
San Joaquin Sourdough in a Dutch Oven over Charcoal
Submitted by
linder
on September 1, 2014 - 1:59pm.
I've been wanting to do this for a few months now, since we are living in a yurt and the only oven I have is a Coleman 12 inch square oven that sits on a burner of our 2 burner Primus camp stove.  I finally got up the nerve to try the San Joaquin Sourdough formula from Dave Snyder in our 'primitive' digs here on Orcas Island.    
I did do somethings a bit differently than Dave.  First, I took the dough out of the fridge after 12 hour rest and let it hang out at 'room temperature', here that's 62F- 65F, for an hour to take the chill off.  I shaped the dough into a single boule.  Lacking a real banetton I floured a cotton neckerchief really well and lined a plastic bowl with it.  I covered the shaped boule with a light dusting of flour and placed it top side down inside the lined bowl.  Then into the Brod and Taylor bread proofer it went.  (The proofer has been my salvation here in the yurt, we have electricity in the yurt and the proofer does a fine job of maintaining a warm moist environment).  I kept it in the proofer at 72F for 1 1/2 hours.  
Meanwhile, my husband started the charcoal briquettes, and we preheated a 10 inch dutch oven to 450F.  Once that heat was attained we placed the bread into the dutch oven and baked for 30 minutes, rotating the oven 180 degrees at 20 minutes into the baking to equalize the heat in the oven.  The bread came out well.  
Here's a picture of the interior crumb,  Great flavor due to the dark rye flour and the rest in the dorm sized fridge overnight.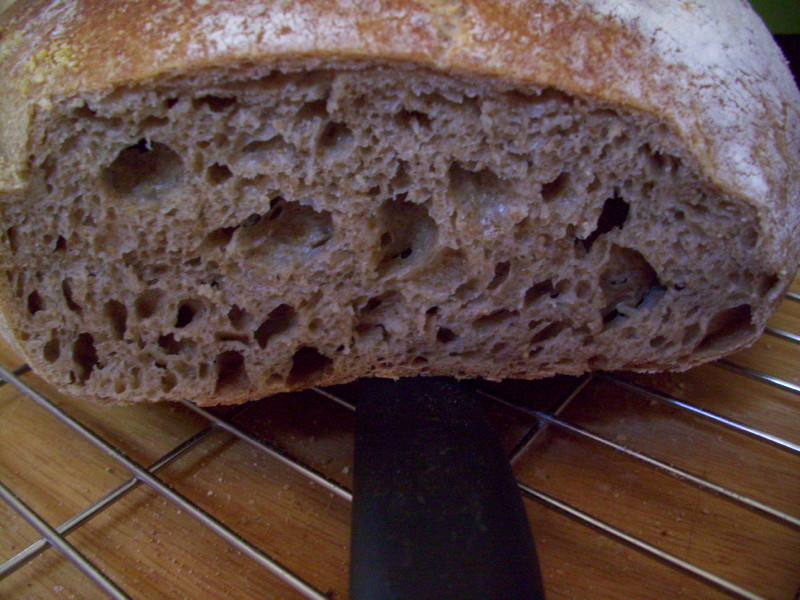 Cracking Cob Oven
Submitted by
KathleenMarie
on September 1, 2014 - 1:17pm.
I completed my little cob oven about a month ago and have fully fired it for pizza a handful of times. After the first time I noticed some cracking. I know this is supposed to be normal, but these seem deep. I don't see corresponding cracks on the inside. Anything special I should do to fix them since they are so large? Thanks so much!! :)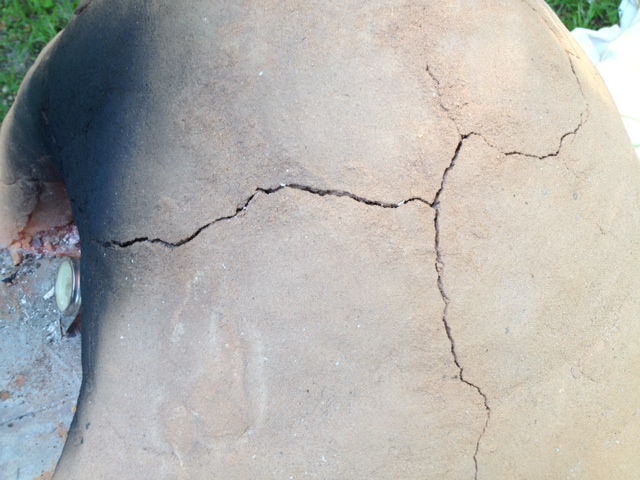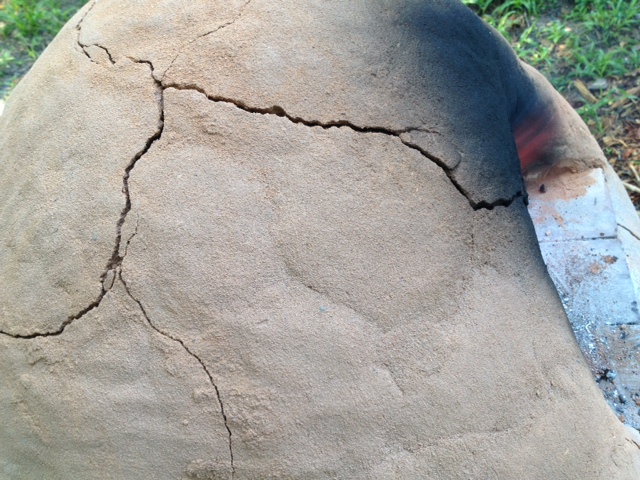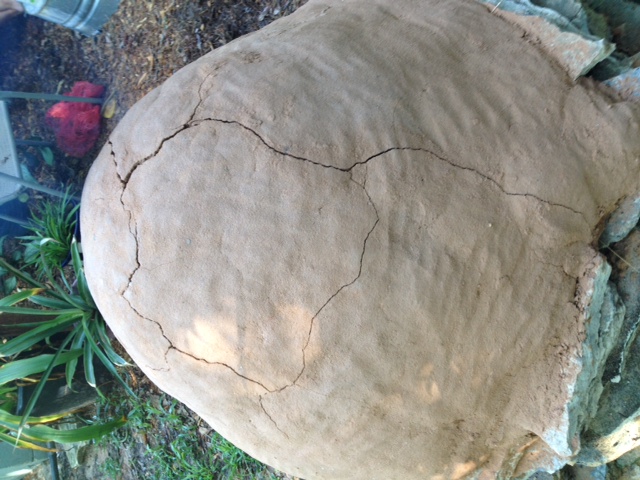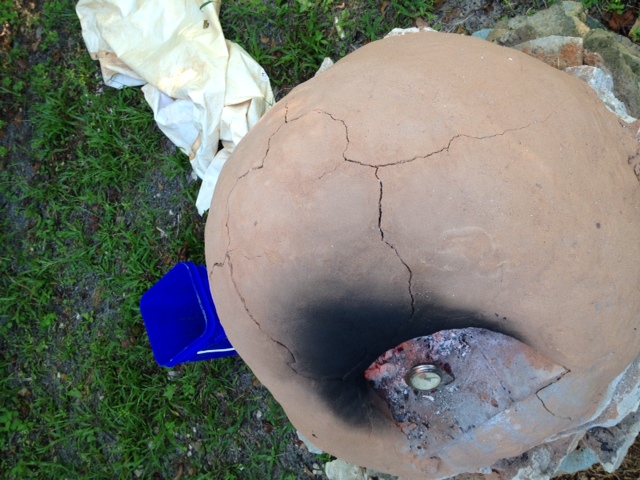 Brotformen invaded by bugs
Brotformen invaded by bugs
Submitted by
emkay
on September 1, 2014 - 12:16pm.
My H. Birnbaum coiled cane proofing baskets (brotformen) have been invaded by little brown insects / bugs. I scrubbed the baskets with a vegetable brush to remove all residual flour and any visible bugs, rinsed the baskets off in hot water, and then let them dry in a turned off but still warm oven (about 120 degrees F). Then I put them in the freezer for 48 hours and then baked them in the oven at 210 degrees F for 30 minutes. 
Do you think that was enough to kill off all the critters and prevent their return? The reason I'm asking is because I won't be baking bread as frequently in the coming months so I will most likely put away the baskets where they will sit unused for some time. It's a shame because autumn and winter are the best seasons to make bread. Sigh.
1. So was it enough to kill 'em and keep them from coming back? If not, what else should I do?
2. What and where is best way to store them long term? Wrapped in a pillowcase or plastic bag or other? In a kitchen cabinet or the freezer?
Any suggestions and advice would be greatly appreciated.
Thanks,
Mary
Offering
Submitted by
Tommy gram
on September 1, 2014 - 12:08pm.
In the swing of the bread thing now.  
i Kick these babies out like clockwork.
It's really very simple, so simple that I tended to overthink it.
70% h2O
2% NaCl (salt)
to bring the flour to 100%, depending on what I have in the drawer:
30% semolina -I try never to run out of semolina love it 
40% All Purpose - AP makes a fine loaf if thats all that's around.
10% rye - this is kinda nice when it's available,
20% bread flour- this fluctuates. 
A 20% starter at 100% hydration kicks things off. 
King Arthur is the cream of the crop. I every now and then go for the Gold Medal 50# bag, but I always come back to the King.
steel cut oatmeal cookies - UK recipe conversion
steel cut oatmeal cookies - UK recipe conversion
Submitted by
metropical
on September 1, 2014 - 11:06am.
found this:
http://allrecipes.co.uk/recipe/18616/chewy-oatmeal-and-raisin-cookies.aspx
175g margarine
175g dark brown soft sugar
1 egg
75ml milk
1 1/2 teaspoons vanilla extract
250g porridge oats
125g plain flour
1/2 teaspoon bicarbonate of soda
1/4 teaspoon ground cinnamon
110g chopped walnuts
150g raisins
does this look like a proper conversion?
6 oz butter
6 oz dark brown soft sugar  (or 5 oz maple syrup and 1 less Tbsp milk)
1 egg
5 Tbsp milk
1 1/2 teaspoons vanilla extract
1.25 C steel cut oats
1/2 C plain flour
1/2 teaspoon bicarbonate of soda
1/2 teaspoon ground cinnamon
1/2 C chopped walnuts
1/2 C raisins
HELP! Pizza Dough Issues
Submitted by
JustLoafing
on September 1, 2014 - 10:13am.
Hello,
I decided to try and use Peter Reinhardt's Lean Bread dough recipe for a pizza crust and had some problems with my dough.  I've used the Lean Bread recipe for bread without a problem, so... here goes. 
I followed the recipe and cold fermented for 3 days and then I split the dough in half and froze both balls of dough.  I thawed them out in the refrigerator overnight.  After opening them up and forming them into a tight dough ball and letting them sit for about an hour I began to try and shape the dough into a pizza disc.  The more that I tried to gently stretch the dough the stickier it became.  I rolled it back into a ball and let it sit and tried again.  The dough became so sticky that it was sticking to the work surface and my hands (even with oil and flour).  The dough would not stretch and became the consistency of just mixed and unstretched dough.  I tried the process again with the second ball of dough this time trying to roll it and again the dough would not work. 
So, clearly something is wrong...
1.  I used 2 tsp of rapid rise yeast.  Could it be the wrong type of yeast or too much?
2.  I used 2 and 1/4 c of lukewarm water.  Could it be too much water? 
3.  Maybe I should shape them more into an even firmer disc? Or let them sit longer? 
Any help is appreciated!! 
Thank you!! 
80qt mixer capacity
Submitted by
dan.r.crothers@...
on September 1, 2014 - 8:40am.
How much dough can you fit into an 80qt hobart mixer saftey?