The Fresh Loaf
Today's baking
Submitted by
Ruralidle
on March 10, 2014 - 3:31pm.
I haven't posted photos for a while and whilst my 100% hydration wheat leaven is having a "funny" my original, 50% hydration, starter is going strong.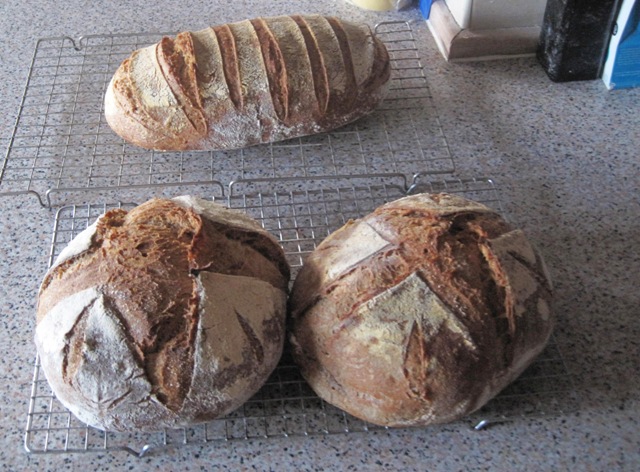 The top loaf is 100% sourdough, mainly spelt flour (wholemeal and white mix) whilst the other two are mainly white flour but with 15% wholemeal wheat, 5% dark rye and 5% nut brown malt flours.  These were a hybrid dough with a 250g of white sourdough and a small amount of "fresh" yeast (it was what was left after I had thrown the blue bits away).  These are gifts so, sorry, but no photos of the crumb.
So what happens if you use lots of butter/oil and lots of vital wheat gluten? he he...
So what happens if you use lots of butter/oil and lots of vital wheat gluten? he he...
Submitted by
jvlin
on March 10, 2014 - 2:30pm.
I've been reading the forums a lot, and people say that butter and vital wheat gluten essentially neutralize each other, since the butter coats the gluten, prevents water from getting in, and prevents it from stretching. So it got me thinking.. what happens if you use lots of butter and lots of gluten? Has anyone tried before? Any hypotheses?
Fed starter too much?
Submitted by
mamagatzemeyer
on March 10, 2014 - 2:25pm.
I'm a very novice sourdough baker.  I was trying to quickly increase the amount of starter I had (about 2 cp of active starter following a successful first feeding), and I added about 3/4 cp of water and about 1 2/3 cp of flour to the second feeding based upon recommendations i found in Wild Breads.  But, now I just have quite a bit of pretty kinda wet flour.  It's been about 48 hours and I've continued stirring to add more air, but haven't seen any changes.  Did I kill my starter?
Thanks!
First time grind - couple questions
First time grind - couple questions
Submitted by
TomSoCal
on March 10, 2014 - 12:38pm.
I'm ready to try grinding wheatberries into flour for the first time. I bought the KitchenAid Grainmill. I know it's not everyone's first choice, but I did a lot of research and to start me out it's what I picked, I have the 7 quart heavy duty KitchenAid.
I have 5 pounds each of soft/hard white wheat berries, Palouse brand.
I will be using the flour in Tartine recipes, probably basic country while and perhaps a more whole grain wheat from Tartine 3. I also bought a sieve to turn some of the grind into "high extraction".
So:
1) when should I grind, how close to my dough mixing?
2) I'm thinking i should use the finest setting on the grain mill?
3) any reason not to grind all my wheat and store it?
Any tips for this first timer? BTW this is my first post on the forums too, I've been a lurker for a while.
Thanks!!
Tom
Sour Rye sprayed with water 4 times
Sour Rye sprayed with water 4 times
Submitted by
weavershouse
on March 10, 2014 - 11:42am.
I made the sour rye today following David's post and spraying the loaves with water instead of the corn starch glaze as suggested by arlo and PMcCool. I sprayed the loaves well with water just before putting them into the oven and again after 15 min. and again after 10 min. and again after the temperature of the loaf was 205 degrees. I turned off the oven and let the loaves sit for 5 min. with the oven door ajar. 
The crust is very firm, there is a nice shine and I'm pleased. 
I used first clear flour from KAF and rye I ground. Unfortunately the loaves burst on one side.
 I haven't cut the loaves yet.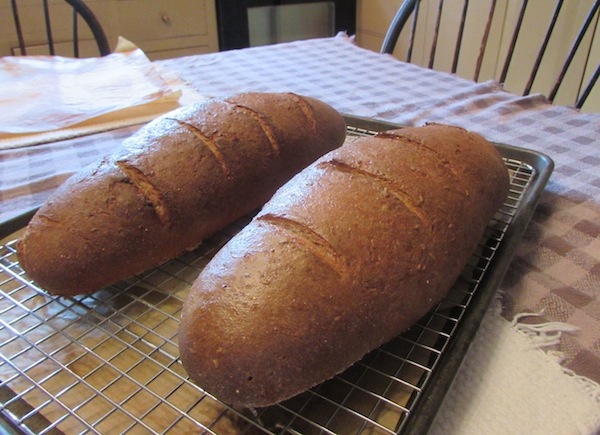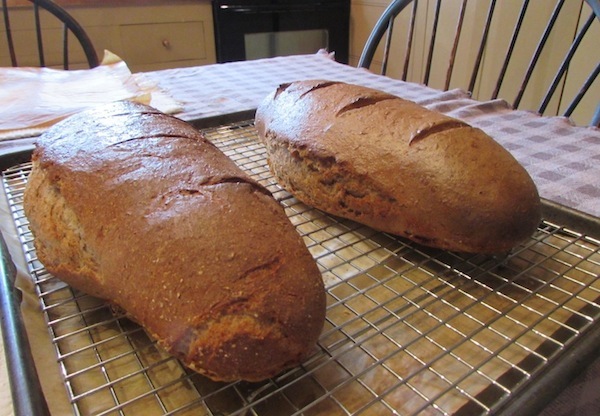 Adding steam to Tom Chandley deck oven
Adding steam to Tom Chandley deck oven
Submitted by
228_BREAD
on March 10, 2014 - 11:00am.
Hi All, 
At work we have just got a new Tom Chandley Deck oven, unfortunately having the steam system installed was a little out of our price range.
What is going to be the most efficient and consistent way of adding steam for baking bread day to day ? before and during the bake. 
Many thanks  
228 
3/10/14 Bake
Submitted by
Wingnut
on March 10, 2014 - 10:35am.
Sourdough help and Tartine No. 3 Fermented Oat Bread
Sourdough help and Tartine No. 3 Fermented Oat Bread
Submitted by
ericreed
on March 10, 2014 - 10:03am.
Ok, I'm new to sourdough breads. So far I've made 4, 2 pure levain and 2 with 0.2% instant yeast added. The latter 2 worked perfectly, of the 2 pure ones, 1 was inedible and didn't rise at all, 1 was ok but a little flat and a little too sour. (The utter failure was Hamelman's Vermont Sourdough, the mostly ok one was Ken Forkish's Overnight Country Blonde, and then I made each with the added yeast.)
My starter is now 3 weeks old and reliably doubles in 4-5 hours at 70 F, which from what I understand seems pretty active. 3 days ago I switched it to 60% hydration from 100%, both the failures were at the higher hydration and while it bubbled nicey, I was worried it was too weak to rise and I thought it would be easier to see it rise with a stiffer dough. The 4-5 hour doubling is with the 60% hydration starter.
I feed it twice a day, usually discarding all but 60 g, then adding 38 g KA Bread flour and 22 g water. (Slightly less than 60%, but some more water gets in when I wet my hands to mix the starter, so I figure it about works out.)
On to the Tartine part and the question. I thought I would try the Tartine method since the others weren't working well for me. It's going right now, but not well. I notice that Forkish pre-ferments 12% of his flour in his levain build and uses 16.67% seed starter. His levain goes 7-9 hours at room temp before mixing the final dough. Hamelman ferments 15% of his flour in the levain, uses 20% seed starter in the levain, and ferments for 12-16 hours. Chad Robertson builds his leaven with merely a tablespoon of seed starter to 200 g flour, which works out to about 8% (I worked this out using Forkish's measurements; he says 216 g starter = 13 tablespoons, so about 16.6 grams per tbsp divided by 200 g flour), and Chad ferments only 7.5% of the flour for 4-6 hours at "moderate room temperature". A mere 150 g levain is meant to rise 1000 g flour, and for this bread 500 g cooked oat porridge as well.
Given that I've been having problems with rising using larger amounts of levain and longer fermentations, it seemed unlikely to work for me. But I did the levain and it took 9 hours to pass the float test, so longer than he suggests but it passed. The final dough has now been fermenting for 2 hours and 45 minutes. (3 hrs 30 min if you count the 45 minute autolyse which has the levain in it.) It has not budged at all that I can tell and I see no indication of fermentation, no bubbles, no sourdough type smells.
I've checked the dough temperature each time I do a stretch and fold and it's maintained a temp of 81-82 F. I'm not surprised that it hasn't perceptibly risen yet given the tiny amount of leaven, but clearly other people have success. So, anyone got some insight?
Very sour, expensive sourdough, causes a sensation of vomitting
Very sour, expensive sourdough, causes a sensation of vomitting
Submitted by
NewbieBaker22
on March 10, 2014 - 5:58am.
I don't understand what the purpose of making sourdough is, as it's both more expensive and less "good tasting" as the commercial yeast used. Of course, that may be something other sourdough bakers might not want to hear because in their sourdough making everything turns out the way they want it, so excuse my ignorance as I am (as my name suggests) a newbie or "new" baker.
However, for me it is always the same old thing: I take a part of my sourdough starter (the REAL kind, using wild yeast), I mix in some flour and wait the 12-18 hours, I then quickly knead it and shape it and then store it in my oven for 1-2 hours for it to rise. Before turning on my oven I take out the pan where the dough has been resting for the 1-2 hours and I let my oven warm up on very high (150-200C) for a couple of minutes until hot.
Then I insert my dough (untouched since the rising phase began) on the pan into the oven with a glass of water besides it, to give it that good crust from the steam.
After it's gotten its golden-brown crust, I take it out, let it cool and eat slices with butter.
That's the same routine I've been doing for a while now, and every single time the dough is very very sour (EVEN WHEN I ADD EXTRA FLOUR AFTER THE 12-18 HOURS OF FERMENTATION!). It's almost uneatable, tasting like a wild yoghurt (meaning the sour yoghurt that hasn't been sweetened like commercial yoghurt).
Also, a while after eating it I will get a strong feeling that I need to puke, that can only be gotten rid of by either drinking excessive fluids to calm my stomach down, or by actually puking (I choose the former rather than the latter).
The whole process of making sourdough (REAL sourdough, not the fake Youtube kind everyone mistakenly takes to be the real old kind) is very expensive compared to making a normal dough from commercial yeast. Continually do I have to "throw away" a part of the sourdough (even if I store my starter in the fridge) to make room for new water and flour. Additionally, I have to add excessively much flour continually to be able to work with the dough. Even in cases where the dough has been very moist (because I thought a moist dough would turn out less sour) it's been just as bad, if not worse than when I add a lot of flour.
Also, note, I add the final part of flour ("lots of flour") in the FINAL stages of the bread making, the 1-2 hours before I actually bake the bread. This is because the fermented flour is, with the help of a microorganism, what creates the sour taste (from lactic acid if I read correctly), so adding sufficient flour AFTER the long fermentation should obviously make the dough less sour, yet this is hardly the case for me.
French flour.
Submitted by
Ric Snapes
on March 10, 2014 - 5:13am.
I'm looking for the best quality stone ground french flour. Anyone got any suggestions?